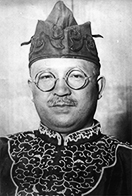 Under the modernizing drive encapsulated in the Meiji-era slogan "Enrich the country, strengthen the military (Fukoku Kyōhei)," Japanese industrial and military expansion led to environmental disasters, restrictions on free speech, a bloody and aggressive war that bore witness to millions of lost lives, and witnessed the forced movement of East Asian people to the Japanese archipelago. It was in the midst of these turbulent times that Fuse Tatsuji worked to protect the rights of minorities, free speech, and the most basic human right to life.
The prewar Japanese "Peace Preservation Law" that sought to suppress political dissent was particularly oppressive for Japan's colonial Korean and Chinese minorities. Yet Fuse worked through the justice system to do everything in his power to protect these peoples from injustice. His basic legal and humanistic principle held that: "Under no circumstances should anyone be left stranded without legal counsel."
Fuse's life-long struggle for social justice, especially his legal representation of countless colonial migrants of Korean heritage is a unique and untold story of prewar Japan that is often overshadowed by the ultranationalist and militarism that tends to characterize that era.
Fuse was the first Japanese to receive the posthumous honor of "Order of Merit for National Foundation" from the South Korean government. Fuse's lifelong contribution to social justice in imperial Japan offers not only an opportunity to come face to face with Japan's past, but also to question the principles and merits of Japan's modernization. Despite the merciless political circumstances he found himself in, Fuse's dedication to justice is one that will inspire and encourage people of all nations.